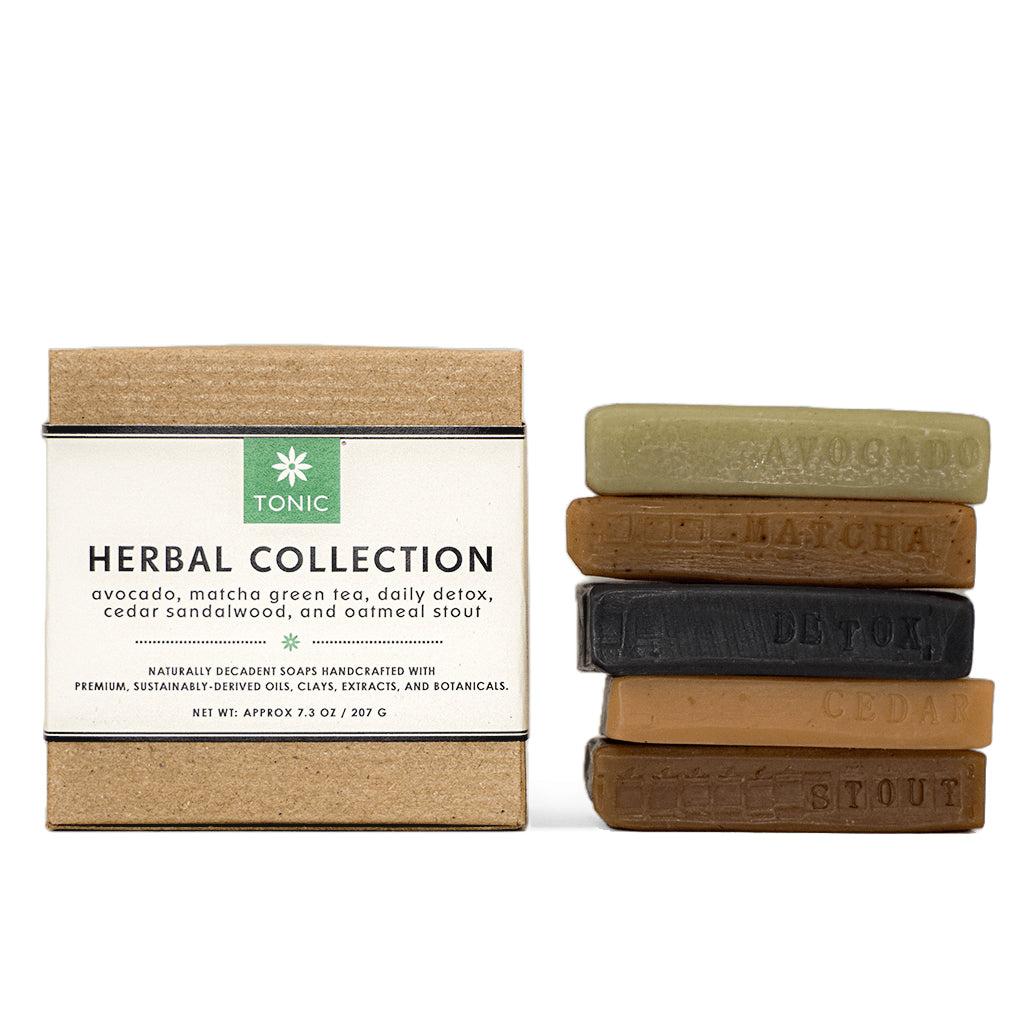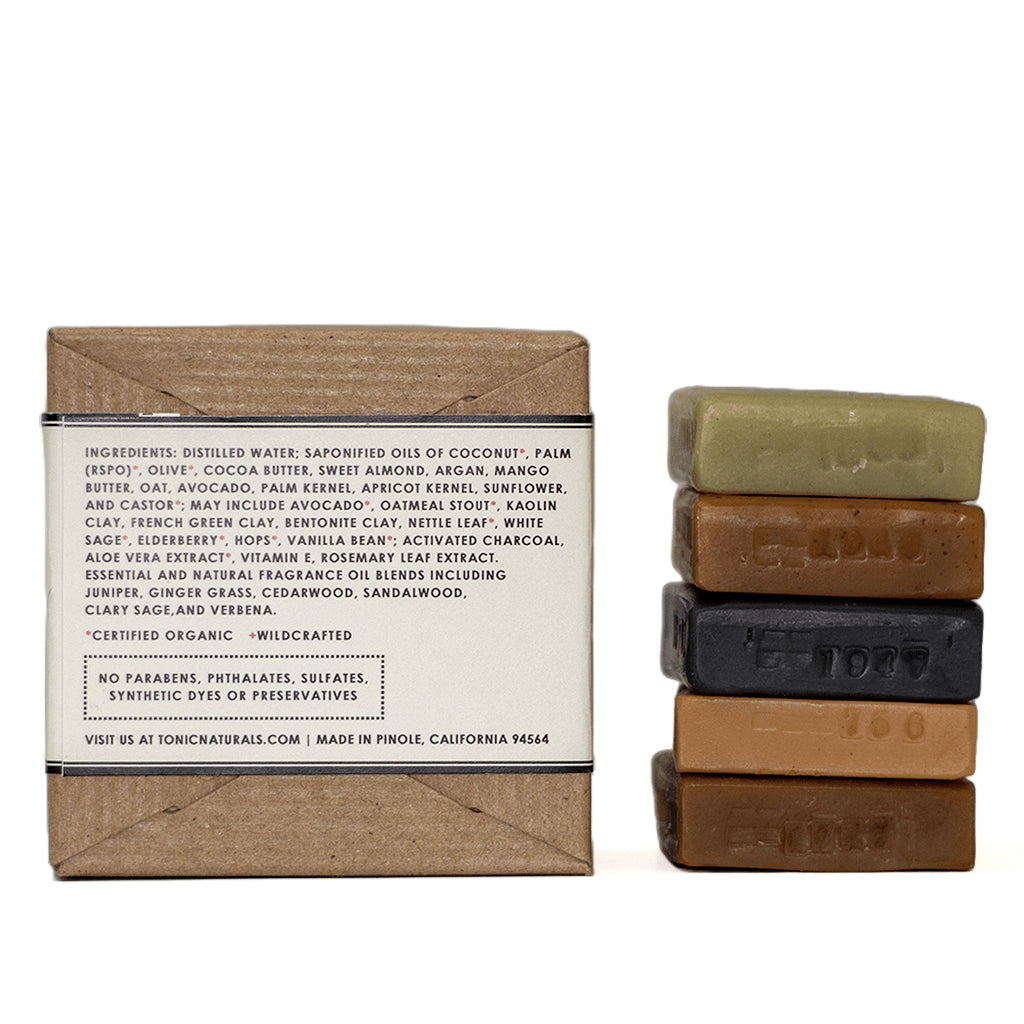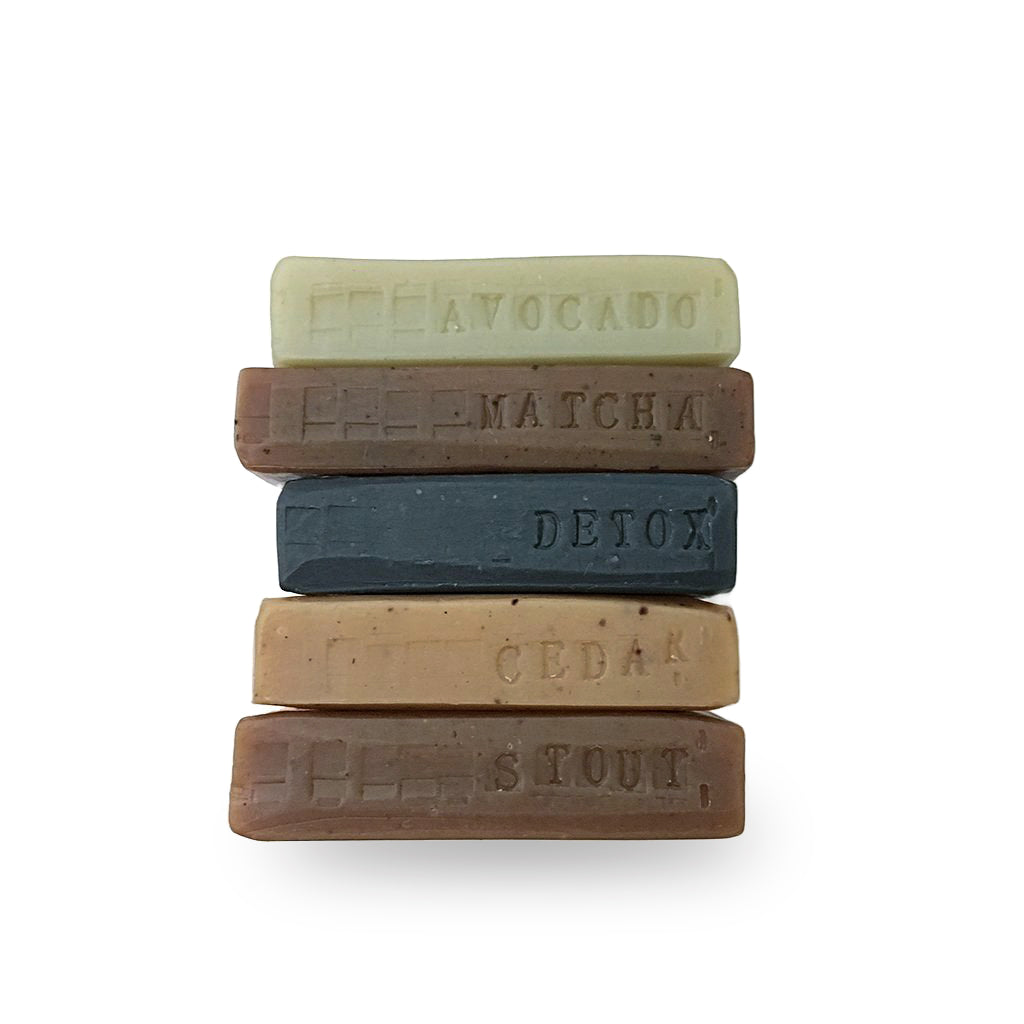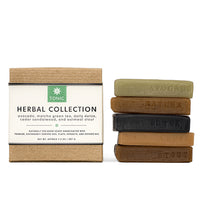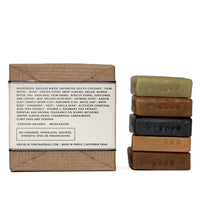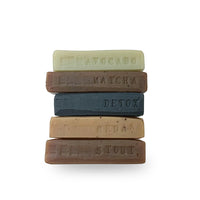 Herbal Collection Mini Bar Soap Sampler
Soothing, Refreshing and Purifying
Featuring 5 mini bars from our Herbal Collection:
Each mini bar is a quarter of our full size bars and measures approximately 2.5" x 1.75" x .6", enough for several showers and the perfect size for travel or the gym bag!
The essential oils are well balanced and very effective, but what makes this collection really shine are the botanicals and other ingredients like fresh organic avocado fruit, whole leaf aloe juice, pure matcha tea powder, soothing hops flower, and activated bamboo charcoal.
Essential oils of lemongrass, juniper, and cedar are some of the featured notes of this collection.  Use them one at a time or try layering the scents by using two or three at the same time!
Key Essential Oils: Cymbopogon flexuosus (Lemongrass), Juniper, and Cedar
Scent Profile: Crisp, green, herbacious
Active Botanicals: Avocado, Aloe, Matcha Tea, Hops
Qualities: Soothing, refreshing, purifying
Best For: Hands, Shower, Shave
Net Weight: Approx. 7.3oz/207g
Saponified oils of coconut*, palm**, olive*, cocoa butter*, sweet almond, argan*, mango butter, oat, avocado*, palm kernel, apricot kernel, sunflower, and castor*; distilled water; may include avocado*, kaolin clay, french green clay, bentonite clay, matcha green tea*; activated charcoal, aloe vera extract*, vitamin e, rosemary leaf extract. Essential and natural fragrance oil blends including juniper, lemon grass, ginger grass, cedar, sandalwood, and immortelle.
*Certified organic ingredient
**Certified organic - RSPO Identity Preserved ingredient
To get the most out of your bar, wet your skin and then work the soap up into a nice lather before gently massaging it into your skin.
For an extra special treat, turn the water off and let the beneficial oils and botanicals soak into your skin for a few moments before rinsing it all off.
When showering, we suggest starting at the top and then working your way down to your feet.

To use as a shampoo bar, first get hair and scalp good and wet. Next, work up a lather in your hands then massage that lather into your scalp. Let the lather soak in to your scalp for a few breaths. Rinse thoroughly with clear, cool water. Condition and style as you normally would.

Keep soap dry between uses for a longer lasting bar. Bar soap will last several years if kept wrapped and in a cool dark dry place.

You can also use these soaps with your skin brush or washcloth for an extra invigorating cleanse.
Tuck this set into your carry on for a nice variety on your travels or as a great hostess gift for those unexpected moments. These mini bars are also great for guest bathrooms.
Delicious, delectable, almost edible
I include ordering the mini bar collections and stock all our sinks with a bar or two. I love it when guests discover the soaps and mention how nice they are. I mean, who mentions soap Well, some do. And such a refreshing change from the ubiquitous liquid substances.
Splurge a little! The bars last a long time anyway.
Best stuff!
Been a big fan for a while. Great to have access online when I can't make the farmers market- Thanks Ian!
Such a delight
I am someone who likes variety and this sampler has such allure in that regard. I place a little bar in every part of my life (one in each shower and sink) and I get to have a different experience each time. The avocado is an everyday shower helper. The cedar sandalwood does for my hands what coffee does for my brain and the stout is a fun surprise in the guest bathroom. Each one is great quality, so nobody gets the short shrift.