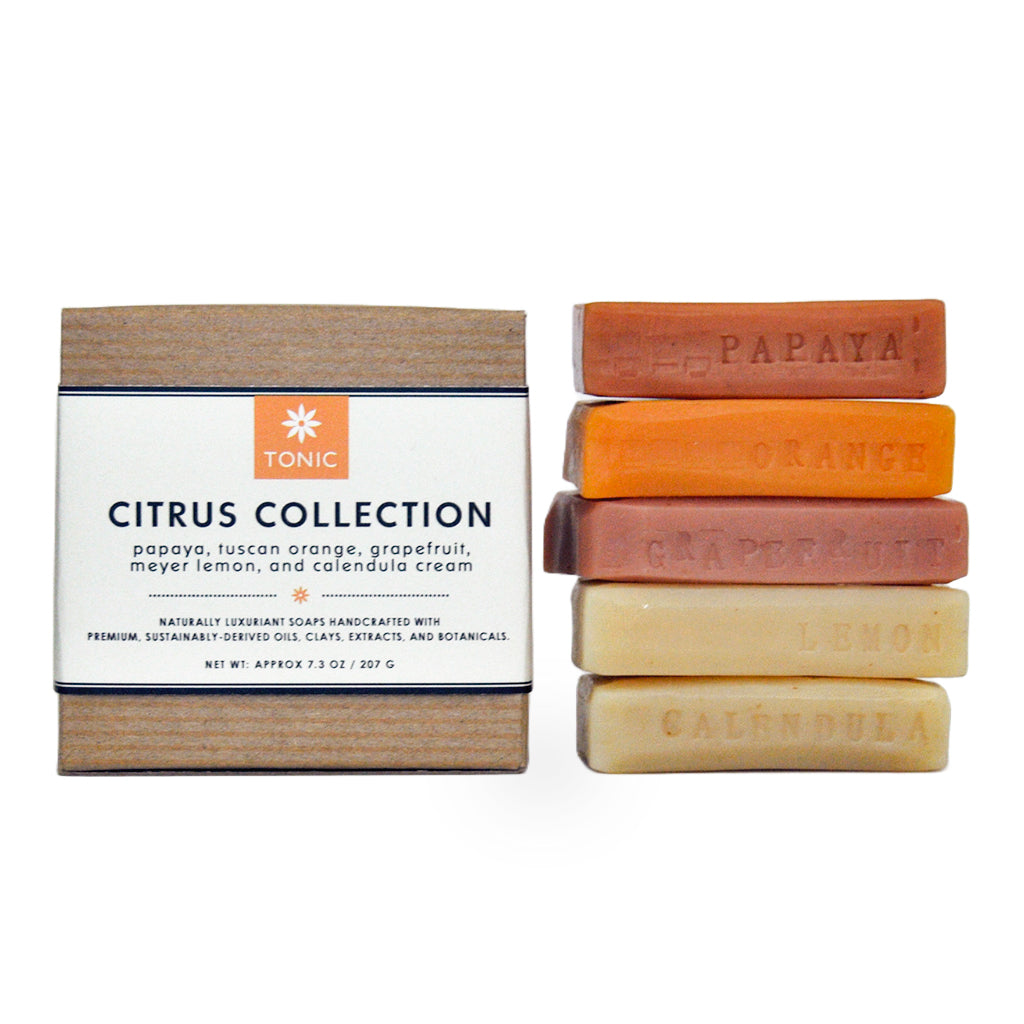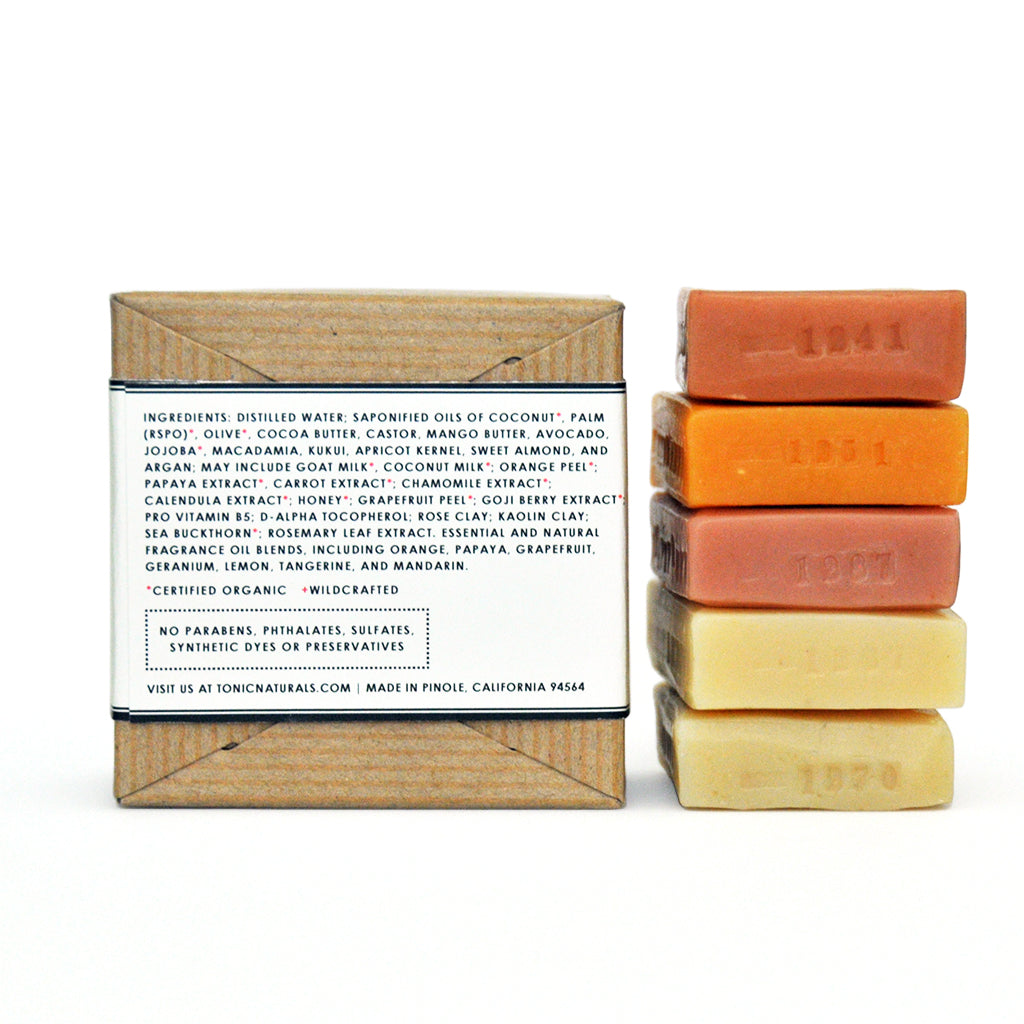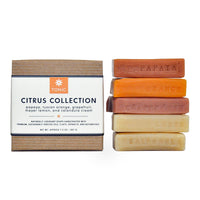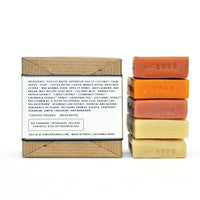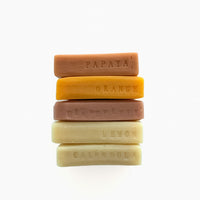 Citrus Collection Mini Bar Soap Sampler
Light, Fresh & Energizing
Featuring five mini bars from our citrus collection: 
Each mini bar is a quarter of our full size bars and measures approximately 2.5" x 1.75" x .6", enough for several showers and the perfect size for travel or the gym bag!
Approx. 7.3oz/207g
Cold Process
Free of Phthalates, Parabens & Sulfates
Handcrafted in

Northern 

California
Key Essential Oils: Orange, lemon, tangerine and mandarin
Scent Profile: Sweet, bright , tart citrus
Active Botanicals: Papaya, calendula, sea buckthorn
Qualities: Uplifting
Best For: All skin types
Net Weight: Approx. Total weight for all five bars is 7.3oz/207g
Distilled water; saponified oils of coconut*, palm**, olive*, cocoa butter*, castor, mango seed butter, avocado, jojoba*, macadamia, kukui, apricot kernel, sweet almond and argan; may include goat milk*, coconut milk*; orange peel*; papaya extract*; carrot extract*; chamomile extract*; calendula extract*; wildflower honey*; grapefruit peel*; oat extract*; pro vitamin b-5; d-alpha tocopherol; rose clay; kaolin clay; sea buckthorn*; rosemary leaf extract. Essential and natural fragrance oil blends including orange, papaya, grapefruit, geranium, lemon, tangerine and mandarin.
*Certified organic ingredient
**Certified organic - RSPO Identity Preserved ingredient
To get the most out of your bar, wet your skin and then work the soap up into a nice lather before gently massaging it into your skin.
For an extra special treat, turn the water off and let the beneficial oils and botanicals soak into your skin for a few moments before rinsing it all off.
When showering, we suggest starting at the top and then working your way down to your feet.

To use as a shampoo bar, first get hair and scalp good and wet. Next, work up a lather in your hands then massage that lather into your scalp. Let the lather soak in to your scalp for a few breaths. Rinse thoroughly with clear, cool water. Condition and style as you normally would.

Keep soap dry between uses for a longer lasting bar. Bar soap will last several years if kept wrapped and in a cool dark dry place.

You can also use these soaps with your skin brush or washcloth for an extra invigorating cleanse.
Like little handfuls of sunshine, this makes a wonderful gift that everyone will love.
Lovely soaps
These little soaps are fantastic. I first received them as a gift and loved them so much that I am now ordering them on a regular basis. They are a bit of a splurge for me, but so worth it. We have to treat ourselves from time to time. Perfect size for guest bathrooms. They come beautifully packaged and marked so you always know which one you are pulling out of the box.