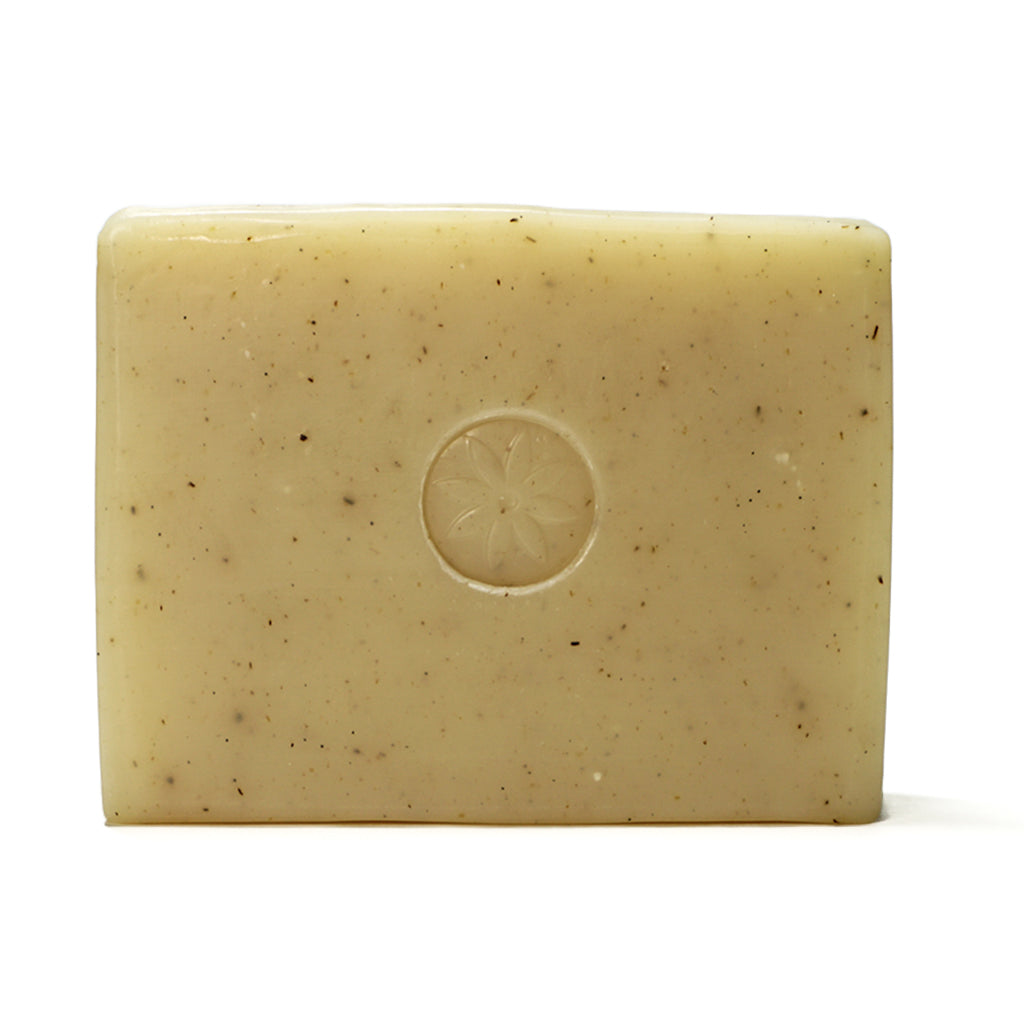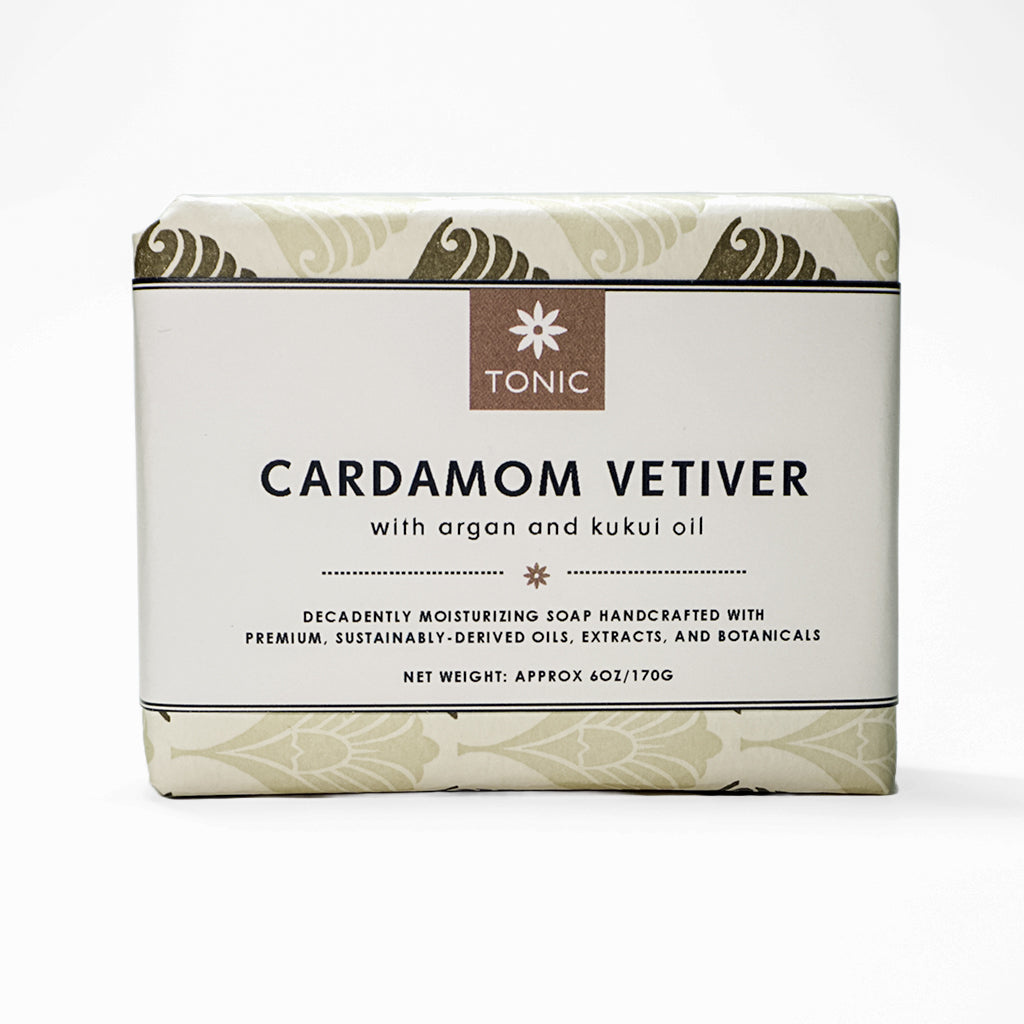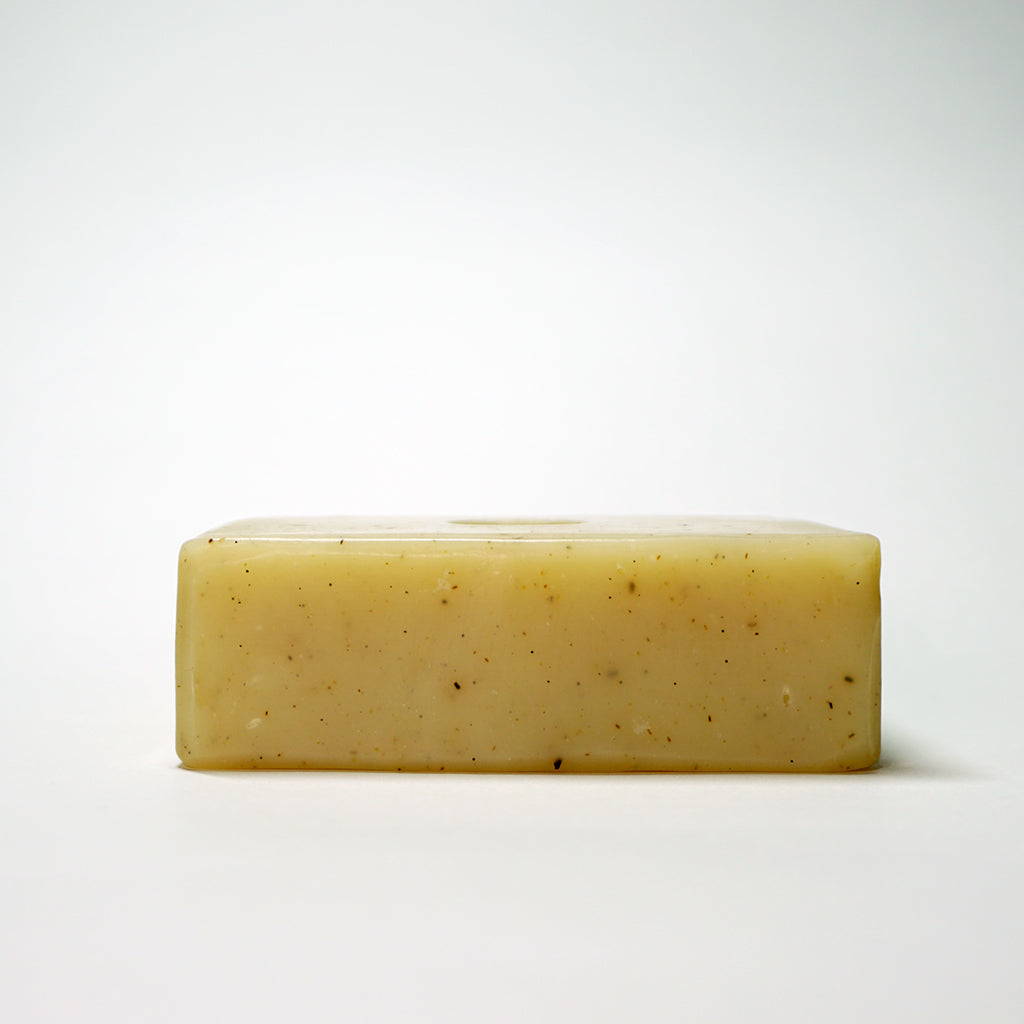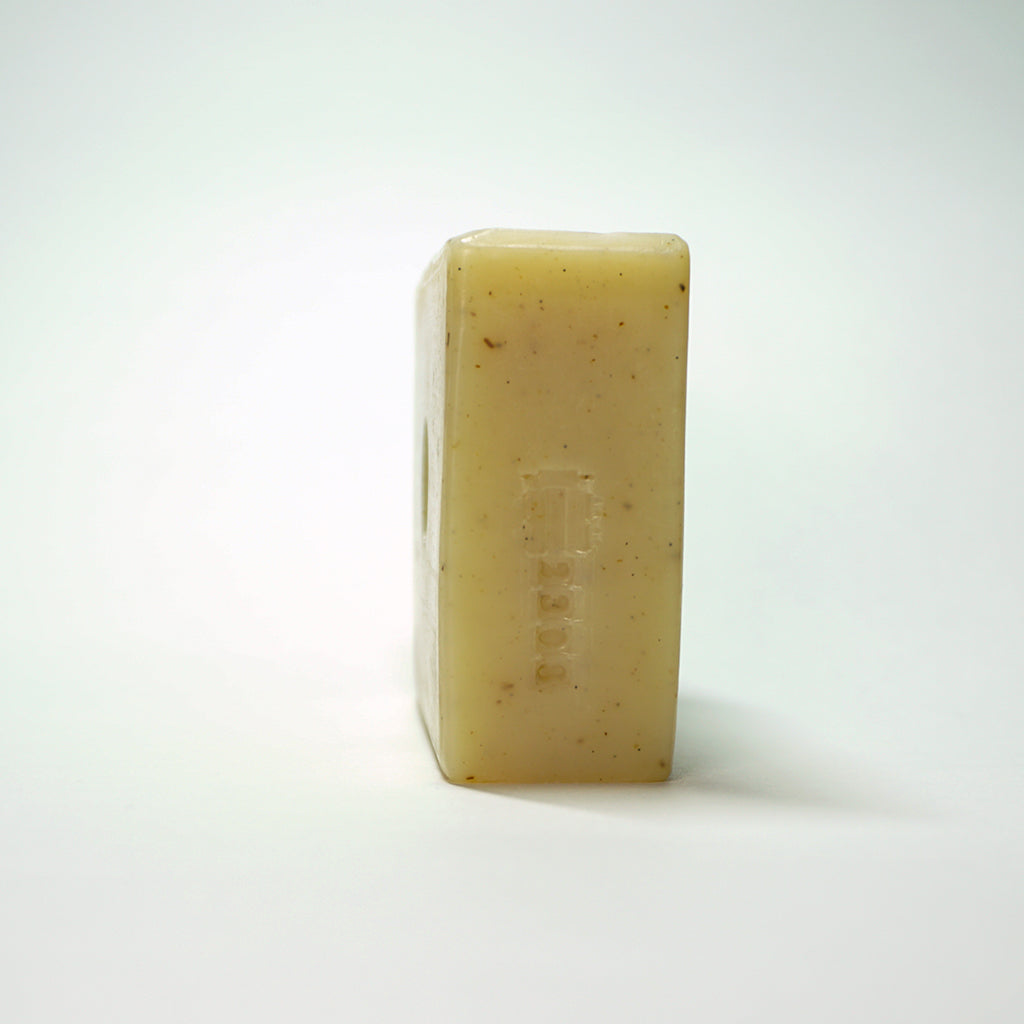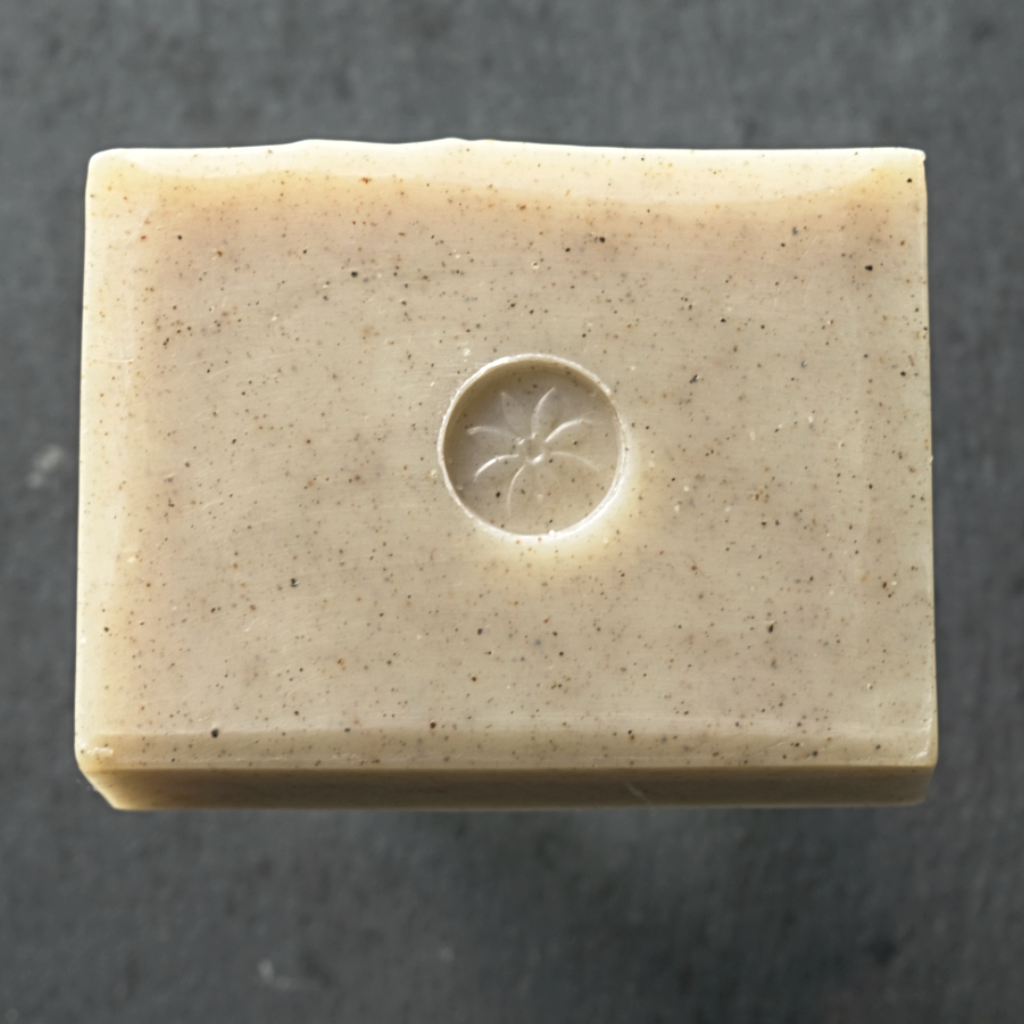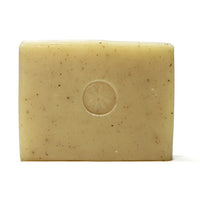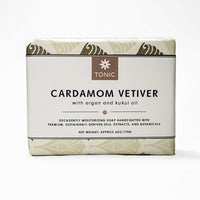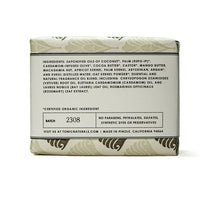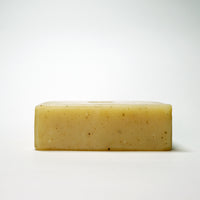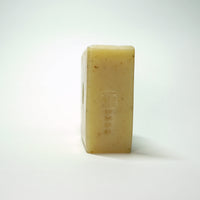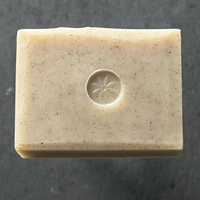 Cardamom & Vetiver Bar Soap
Earthy, Spicy, and Deeply Moisturizing
Warm and spicy cardamom is paired with earthy Haitian vetiver for a richly fragrant and deodorizing lather.
Cocoa and mango butters leave your skin feeling soft and moisturized. This clean rinsing bar soap is great for dry skin and gentle enough to use every day.
Key Essential Oils: Elettaria cardamomum (Cardamom), Chrysopogon zizanioides (Vetiver)
Scent Profile: Earthy and spicy with a hint of smoke
Active Botanicals: Avena sativa (Oat)
Qualities: Balancing, grounding, warming
Best For: All skin types, daily shower bar
Net Weight: Approx. 6 oz/170g
Saponified oils of coconut*, palm**, cardamom-infused olive*, cocoa butter*, castor*, mango butter, macadamia nut, apricot kernel, palm kernel, argan*, and kukui*; distilled water; essential and natural fragrance oil blend, including vetiver (chrysopogon zizanioides) root oil, cardamom (elettaria cardamomum) oil, and bay laurel (laurus nobilis) leaf oil; abyssinian oil; argan oil*; oatmeal (avena sativa) kernel flour*; vanilla bean (vanilla planifolia) fruit; rosemary (rosmarinus officinalis) leaf extract.
*Certified organic ingredient
**Certified organic - RSPO Identity Preserved ingredient
To get the most out of your bar, wet your skin and then work the soap up into a nice lather before gently massaging it into your skin.
For an extra special treat, turn the water off and let the beneficial oils and botanicals soak into your skin for a few moments before rinsing it all off.
When showering, we suggest starting at the top and then working your way down to your feet.

To use as a shampoo bar, first get hair and scalp good and wet. Next, work up a lather in your hands then massage that lather into your scalp. Let the lather soak in to your scalp for a few breaths. Rinse thoroughly with clear, cool water. Condition and style as you normally would.

Keep soap dry between uses for a longer lasting bar. Bar soap will last several years if kept wrapped and in a cool dark dry place.

You can also use these soaps with your skin brush or washcloth for an extra invigorating cleanse.
The earthy, spicy, sultry scent lasts all day, and the creamy cocoa butter lather enriched with argan oil leaves skin feeling soft, clean, and wonderfully pampered.
Best Gift
The recipient of the soaps were thrilled by the scents and are big bath people so they are looking forward to enjoying them. Thank you for making gift giving so easy!
I love this soap!
The soap is long-lasting and smells wonderful.
One of our Favs of many Tonic soaps we LOVE.
Yang, woodsy, exotic, grounding. Gentle and light.
We keep coming back to it. We absolutely love theses soaps and continue to buy even though we are across the country. Nothing compares for loving personal pampering. Many thanks!