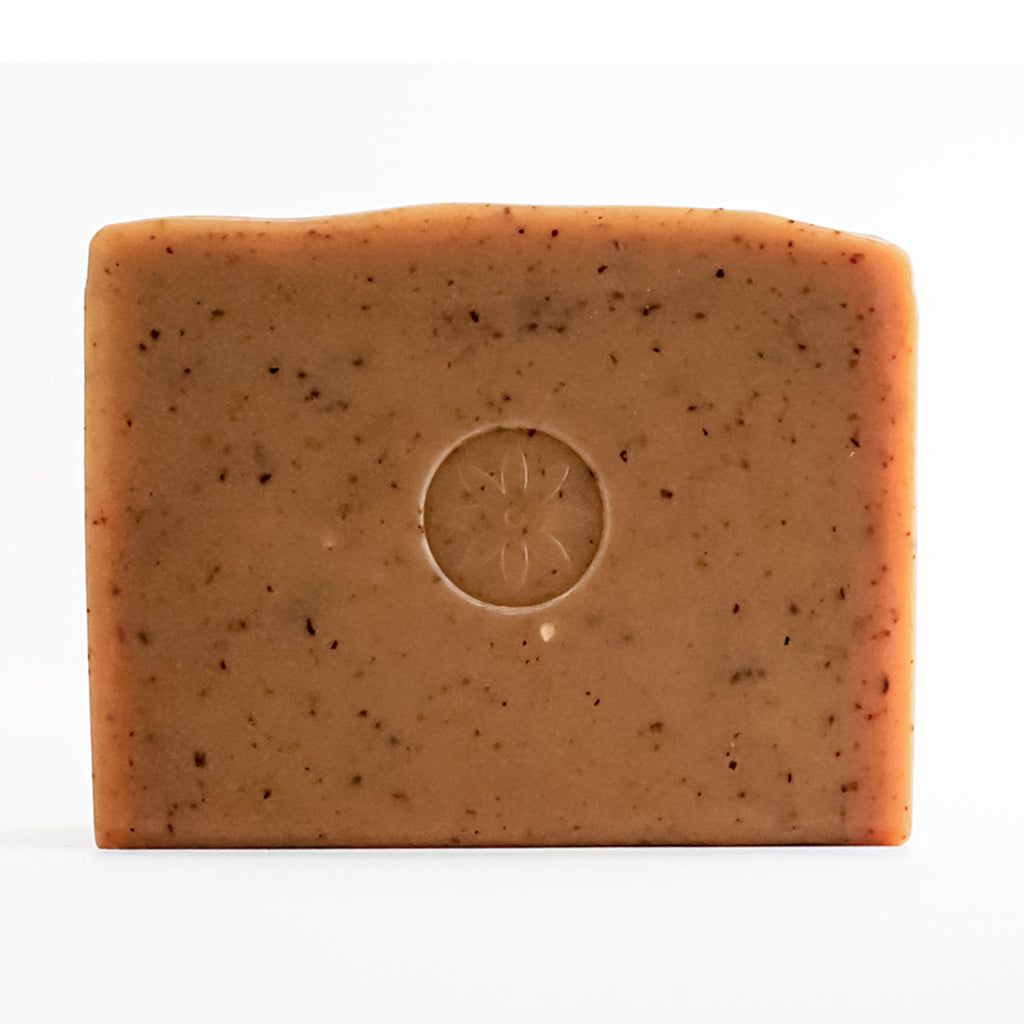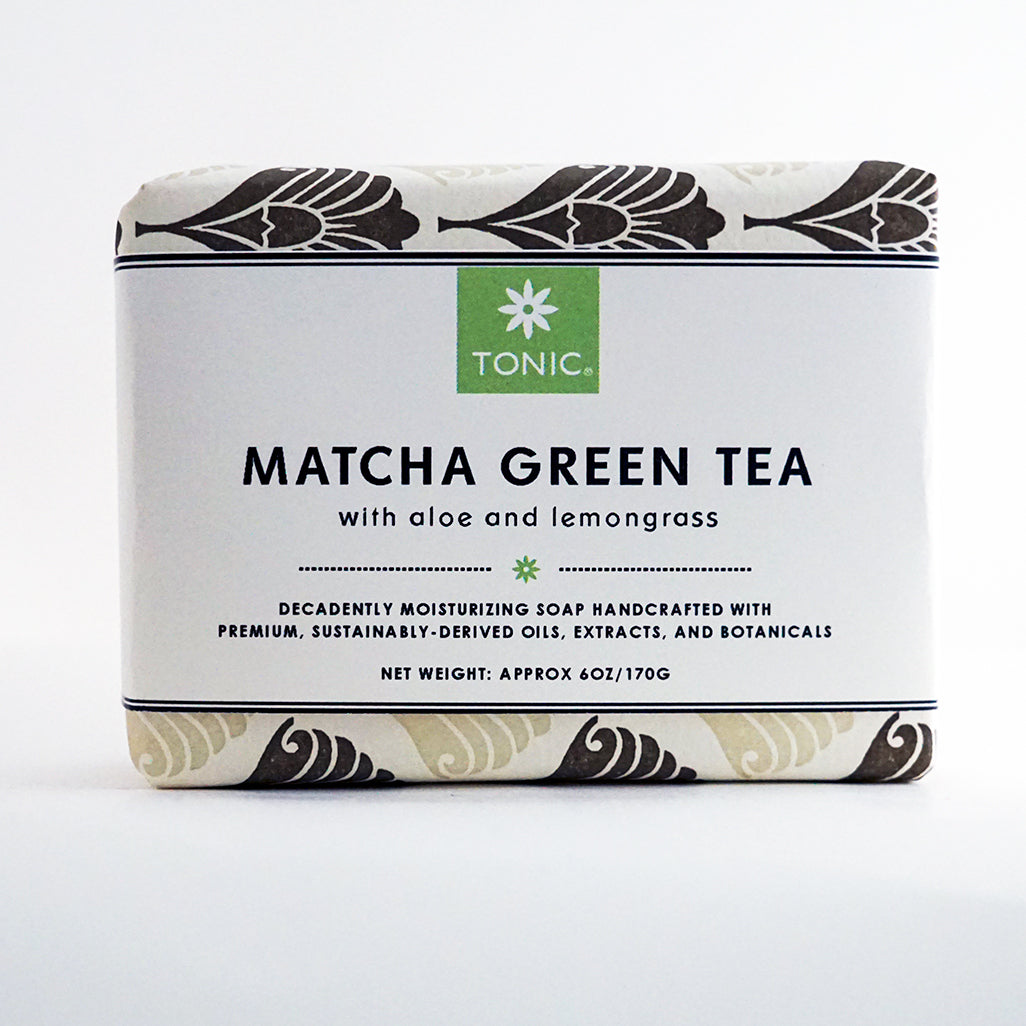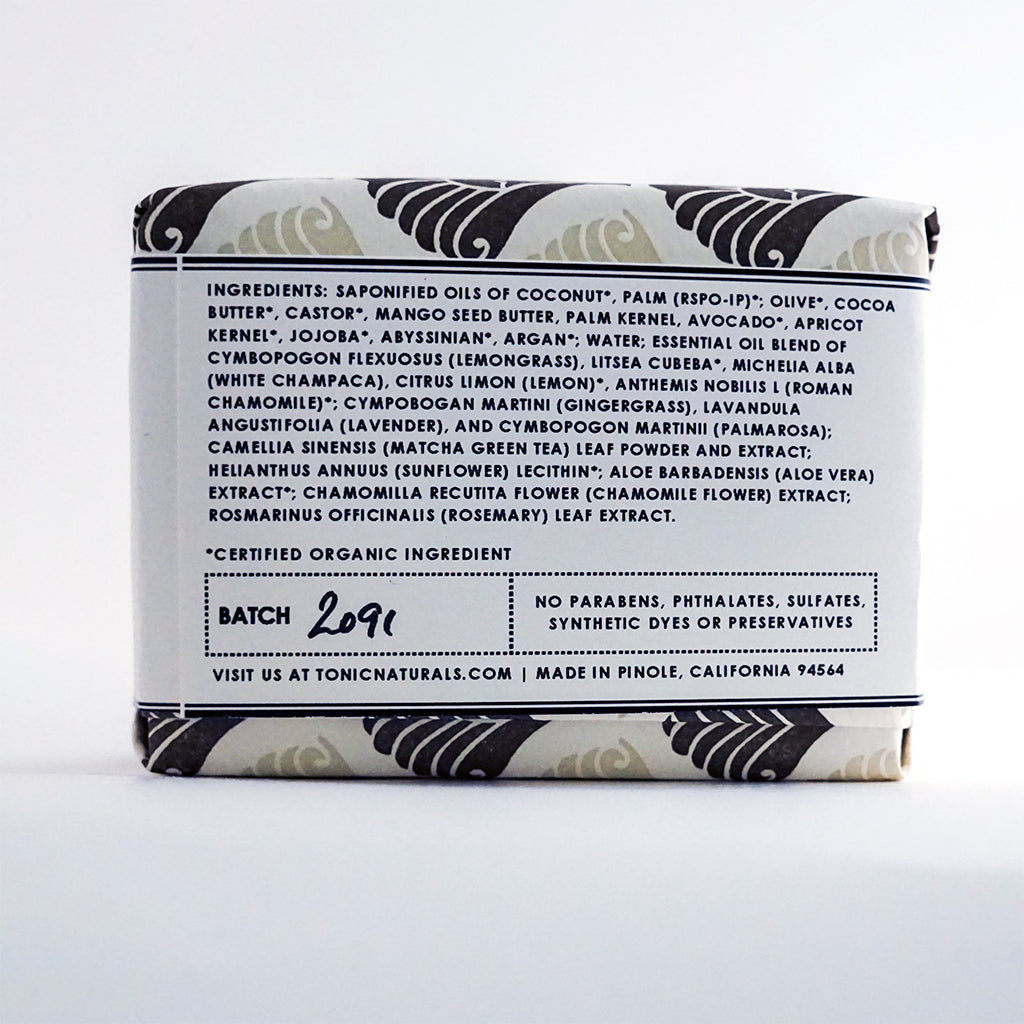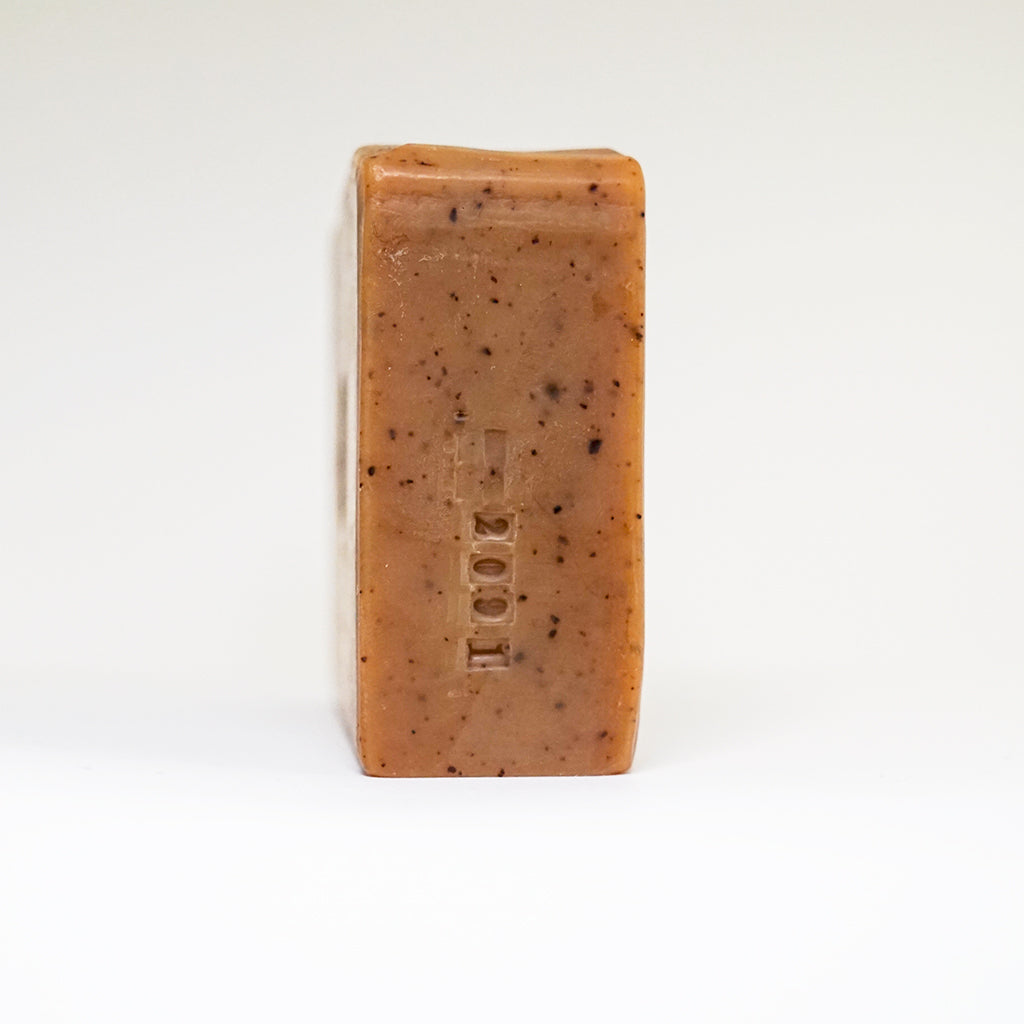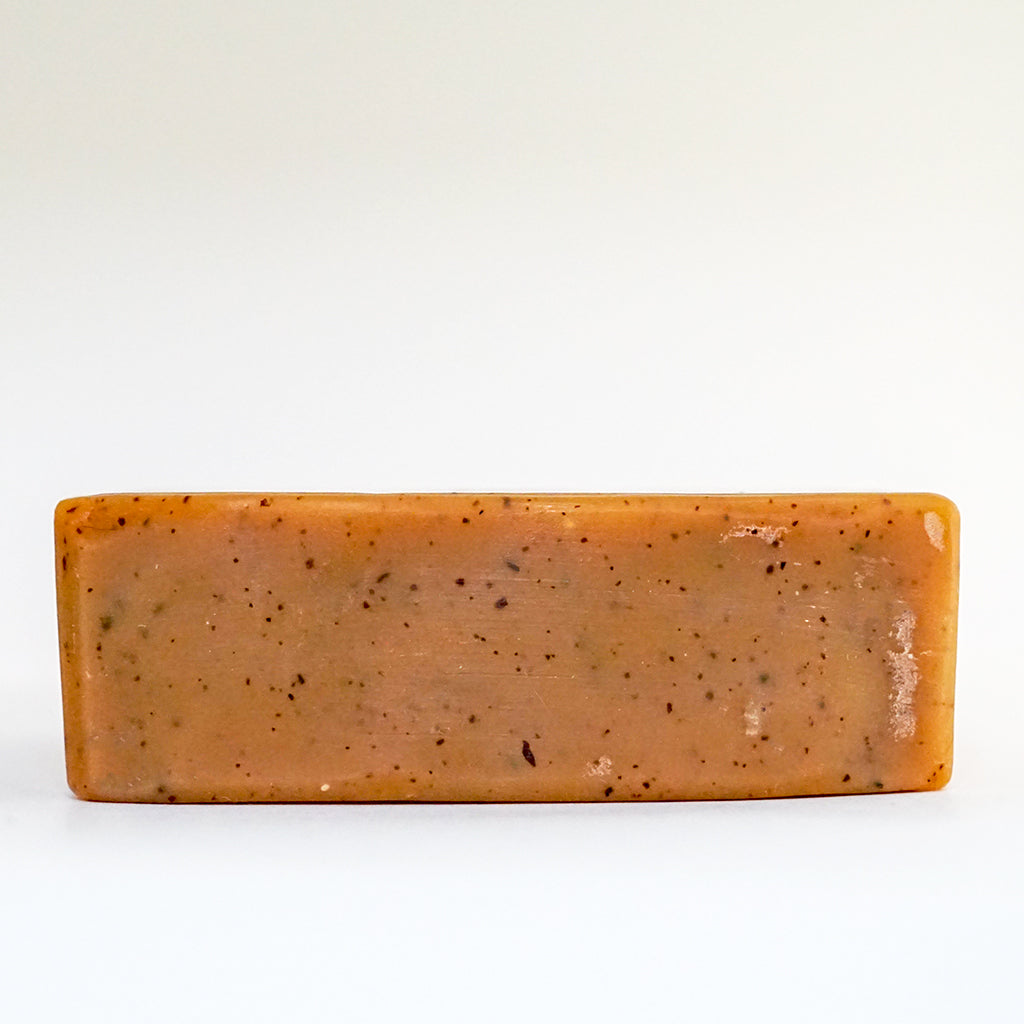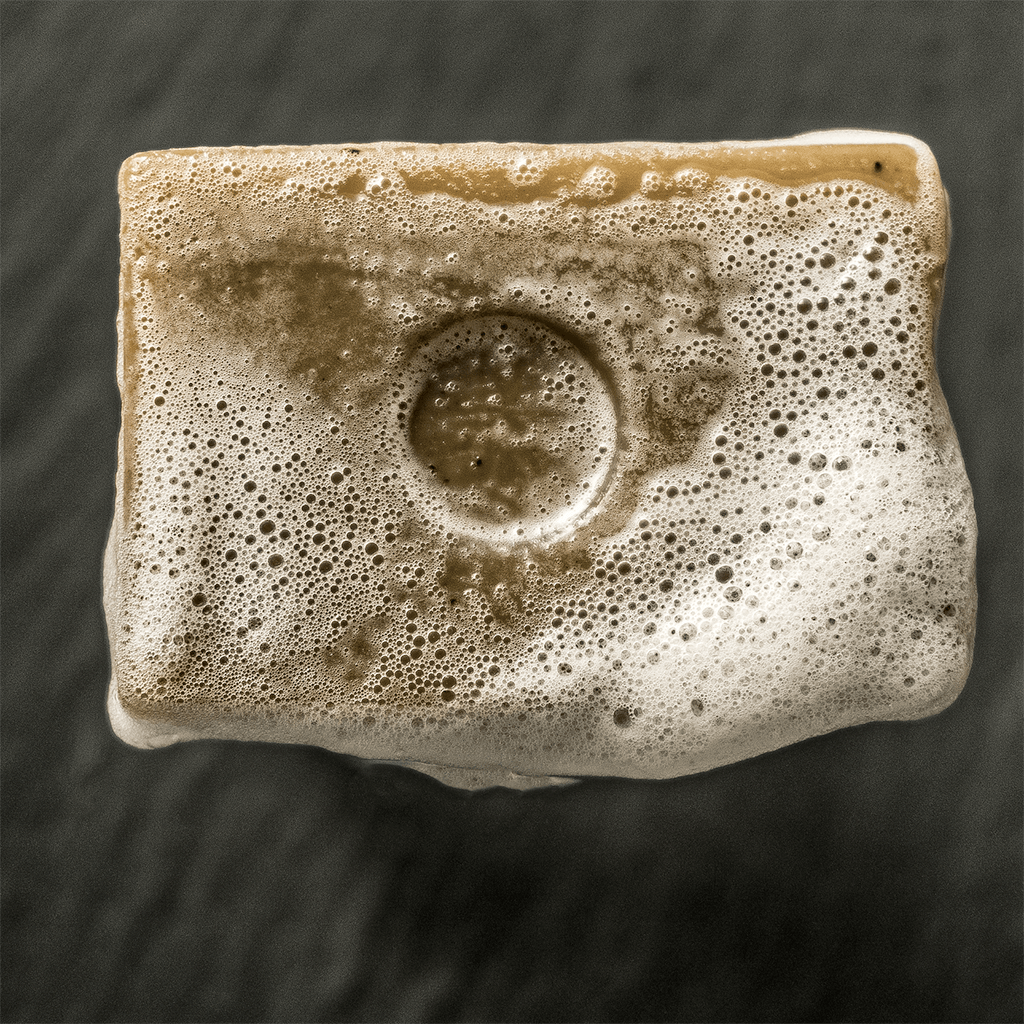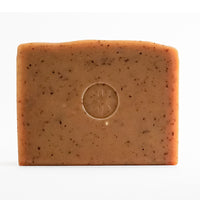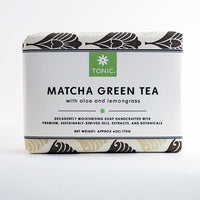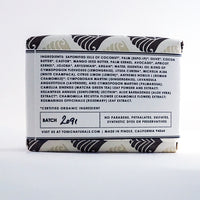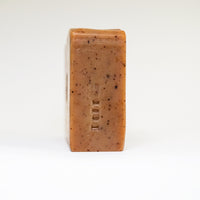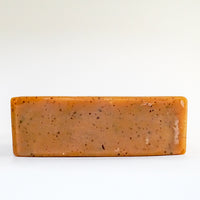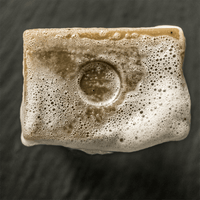 Matcha Green Tea Bar Soap
with Aloe Vera and Lemongrass
Matcha green tea is rich in chlorophyll and polyphenols, naturally antimicrobial and purifying, and great for calming and toning acne prone or sunburned skin.
Aloe vera extract complements the matcha and helps create a soothing lather while Lemongrass oil helps tighten pores and tone skin.
Michelia alba (magnolia) essential oil smells heavenly and is considered to be cooling and calming.
Gingergrass essential oil has a fresh green spicy scent and is traditionally used to disperse stagnant energy and calm the spirits.
Key Essential Oils: Cymbopogon flexuosus (Lemongrass), White Champaca, Ginger Grass
Scent Profile: Matcha and lemongrass
Active Botanicals: Matcha Green Tea, Aloe Vera
Qualities: Astringent, cooling, soothing
Best For: Normal to oily skin
Net Weight: Approx. 6oz/170g
Saponified oils of coconut*, palm**; olive*, cocoa butter*, castor*, mango seed butter, palm kernel, avocado*, apricot kernel*, jojoba*, abyssinian*, argan*; water; essential oil blend of cymbopogon flexuosus (lemongrass), litsea cubeba*, michelia alba (white champaca), citrus limon (lemon)*, anthemis nobilis l (roman chamomile)*; cympobogan martini (gingergrass), lavandula angustifolia (lavender), and cymbopogon martinii (palmarosa); camellia sinensis (matcha green tea) leaf powder and extract; helianthus annuus (sunflower) lecithin*; aloe barbadensis (aloe vera) extract*; chamomilla recutita flower (chamomile flower) extract; rosmarinus officinalis (rosemary) leaf extract.
*Certified organic ingredient
**Certified organic - RSPO Identity Preserved ingredient
To get the most out of your bar, wet your skin and then work the soap up into a nice lather before gently massaging it into your skin.
For an extra special treat, turn the water off and let the beneficial oils and botanicals soak into your skin for a few moments before rinsing it all off.
When showering, we suggest starting at the top and then working your way down to your feet.

To use as a shampoo bar, first get hair and scalp good and wet. Next, work up a lather in your hands then massage that lather into your scalp. Let the lather soak in to your scalp for a few breaths. Rinse thoroughly with clear, cool water. Condition and style as you normally would.

Keep soap dry between uses for a longer lasting bar. Bar soap will last several years if kept wrapped and in a cool dark dry place.

You can also use these soaps with your skin brush or washcloth for an extra invigorating cleanse.
A clean rinsing bar soap made with organic matcha green tea, aloe vera, lemongrass and michelia alba.
Cooling, astringent and wonderful for normal to oily or sunburned skin.
Matcha green tea
Aromatherapy plus clean and greenery. Only thing that comes close to this product is the company's customer service.
Jill C
Denver
Excellent!!!
Very sent(y) . I like how it has the bathroom smelling like the soap the next day . Looking forward to trying all of them
Best soap ever
Bought this product at the Marin FarmersMarket. Fragrant, long lasting, well made. Recommend highly.