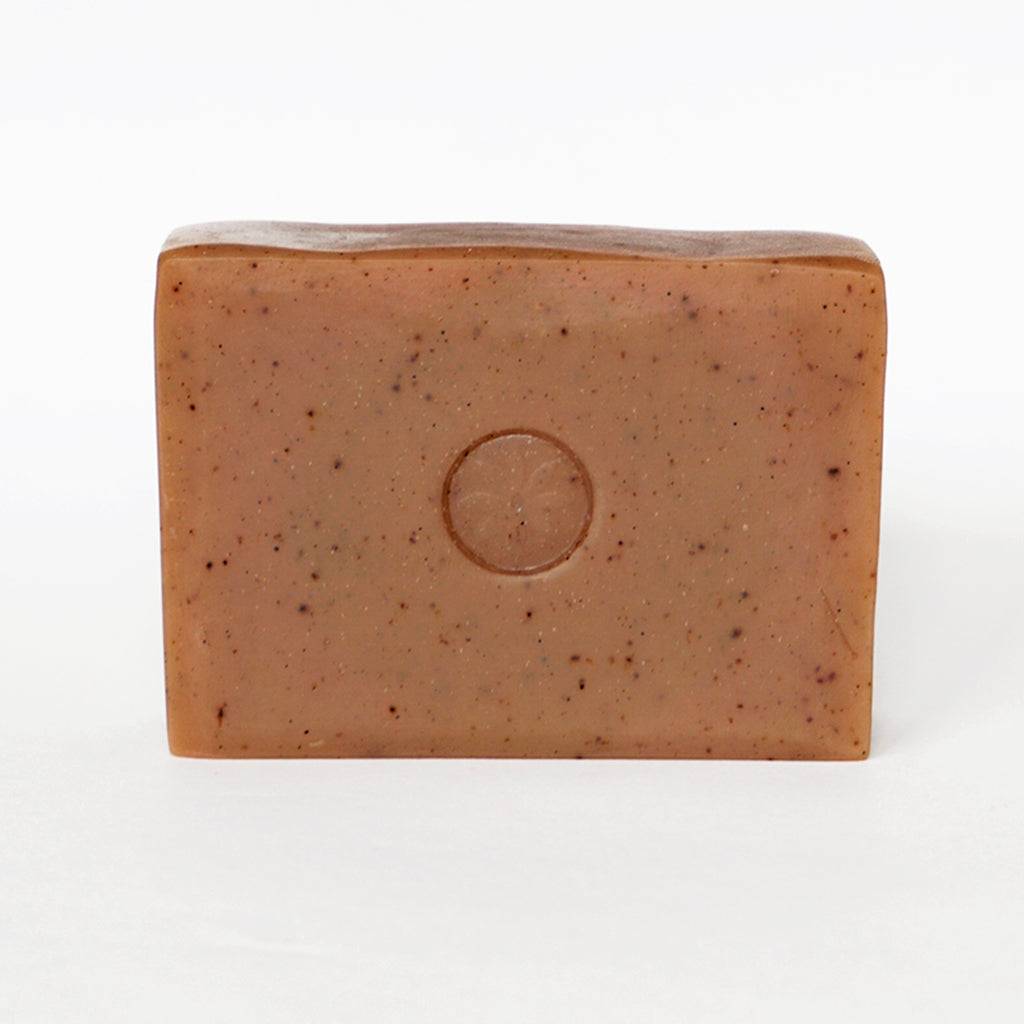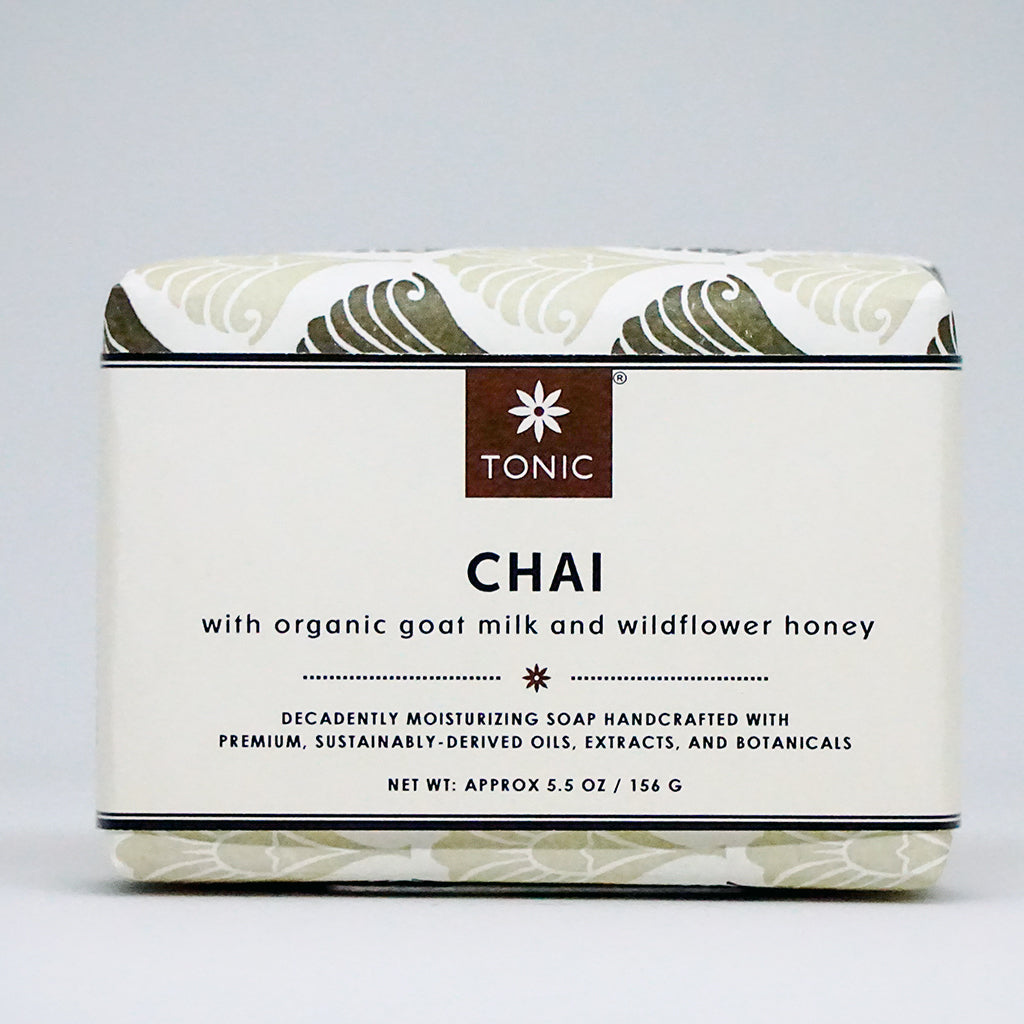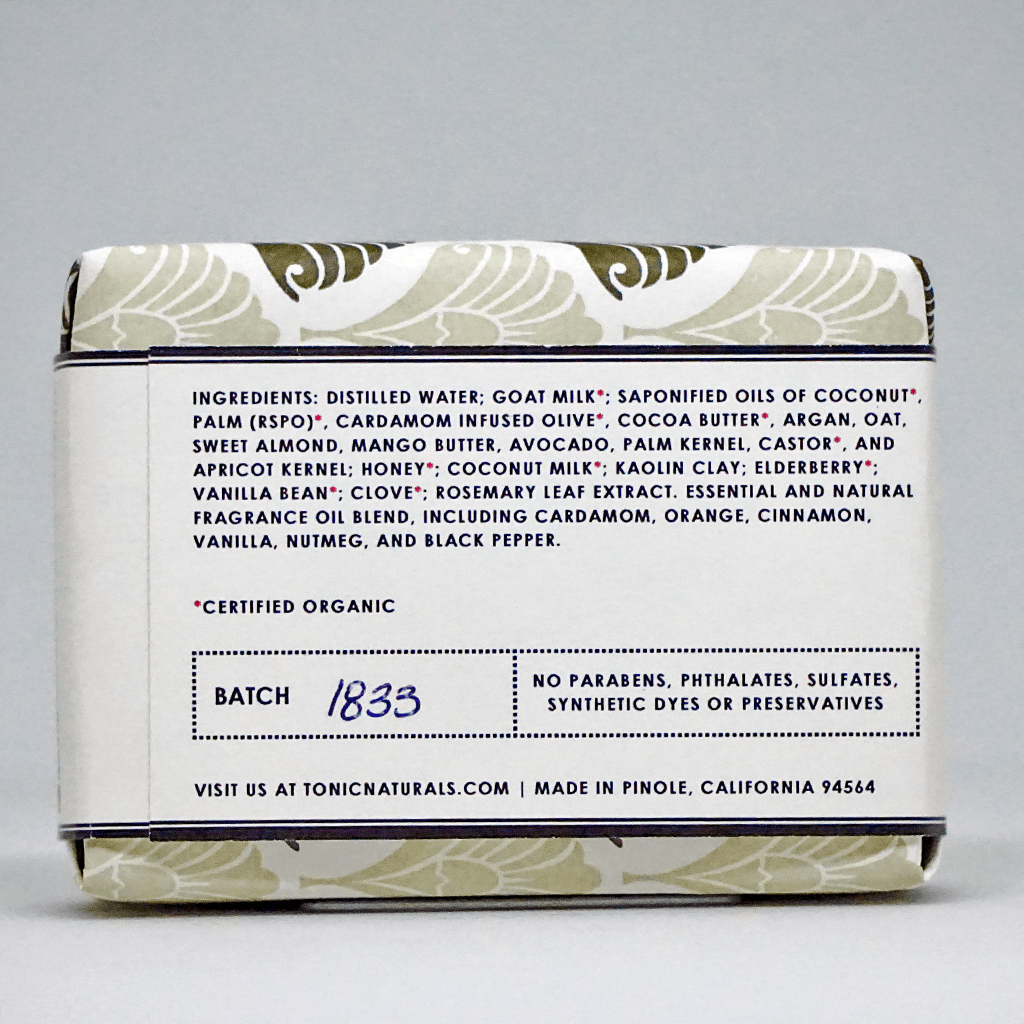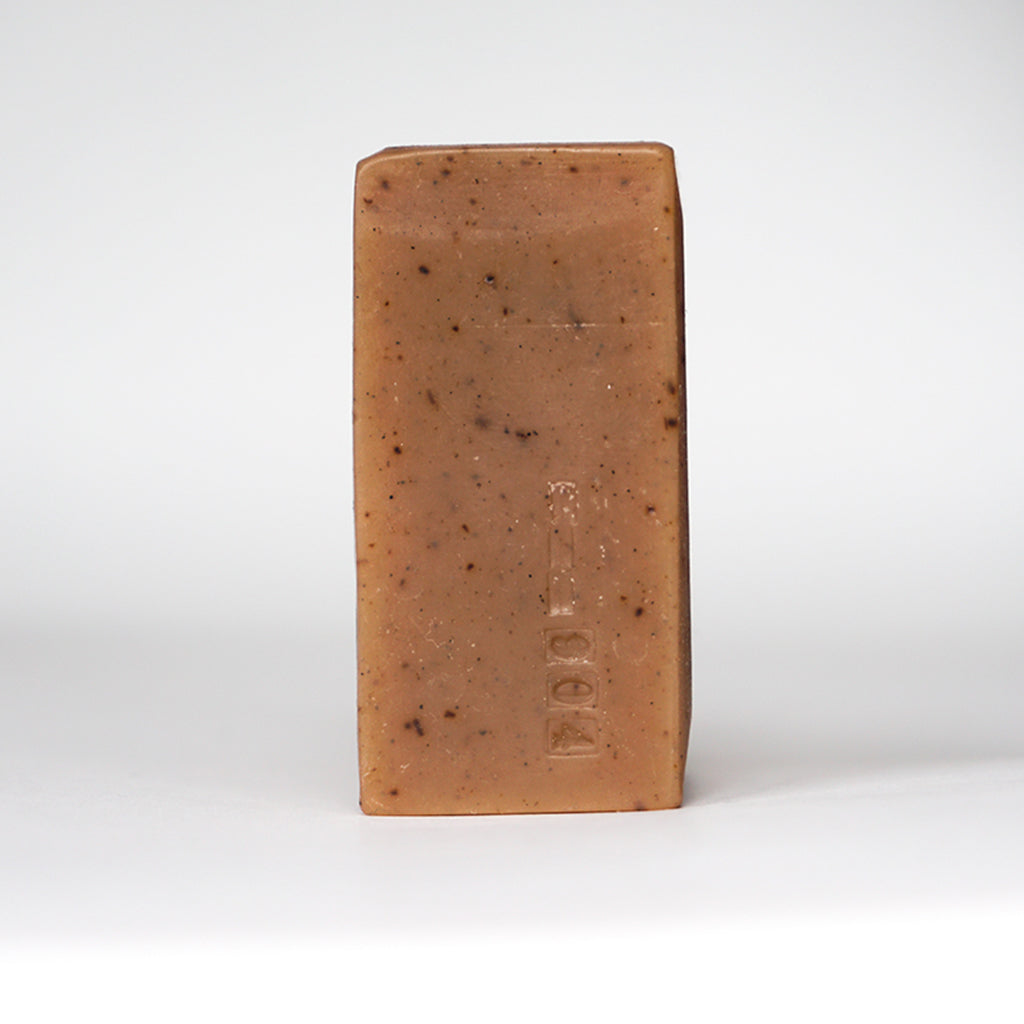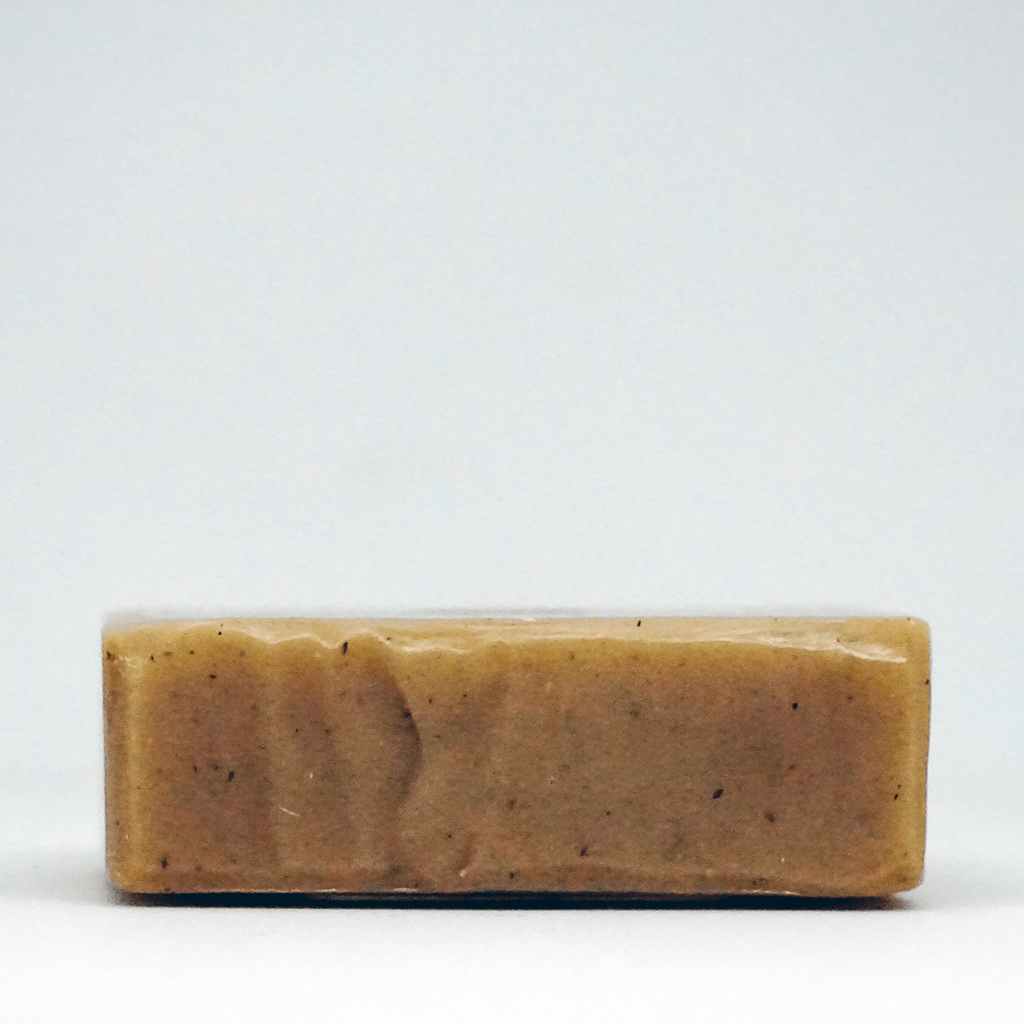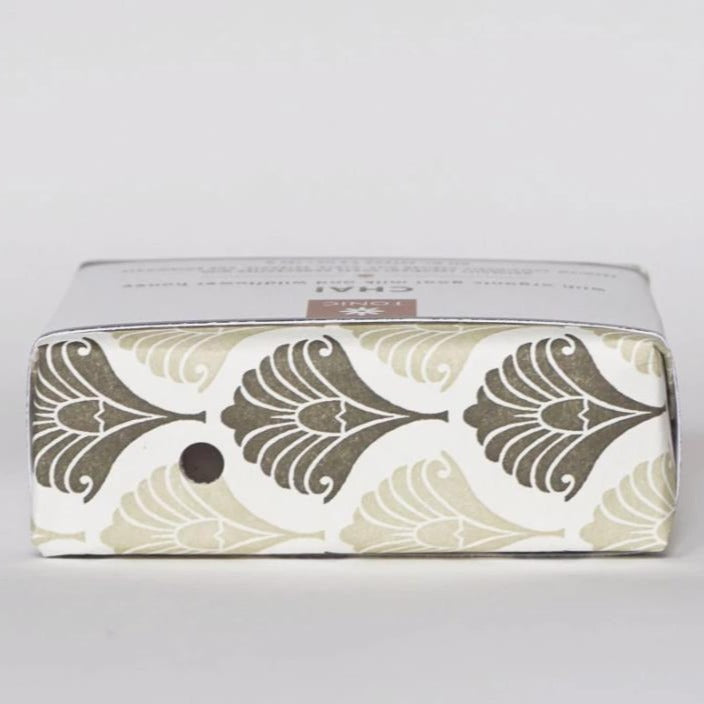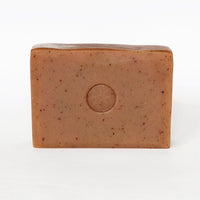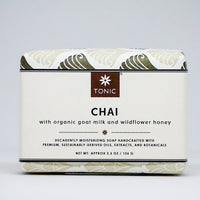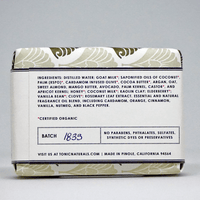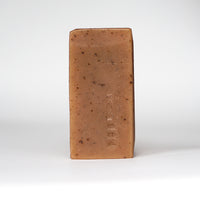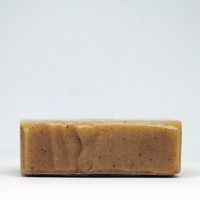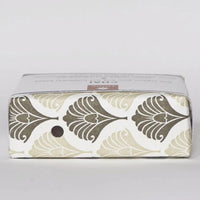 with Organic Goat Milk and Wildflower Honey
Local wildflower honey, goat milk and essential oils of nutmeg, cardamom, black pepper and vanilla combine to create this sweet and spicy Chai Goatmilk Bar Soap.
Goat milk's lactic acid content sweeps away dead skin while honey's humectant quality draws in moisture to help hydrate and soften. Skin is left feeling energized and moisturized, making it ideal for all skin types.
Key Essential Oils: Elettaria cardamomum (Cardamom), Citrus sinensis (sweet orange), zingiber officinale (ginger) root
Scent Profile: Fall spices and honey
Active Botanicals: Honey, Sunflower extract
Qualities: Warming, invigorating, hydrating
Best For: Dry skin
Net Weight: Approx. 6oz / 170g
Saponified oils of coconut*, palm**, olive*, cocoa butter*, castor*, mango seed butter, palm kernel oil, macadamia nut, apricot kernel, and kukui*; water; goat milk*; plant base fragance oils of cardamom and vanilla; essential oils of elettaria cardamomum (cardamom), citrus sinensis (sweet orange), zingiber officinale (ginger) root, piper nigrum (black pepper) seed, myristica fragrans (nutmeg), and cinnamomum zeylanicum (cinnamon) leaf; almond oil; glycerin; coconut milk*; argan oil*; broccoli seed oil*; kaolin clay; honey*; sunflower extract*; vanilla bean*; rosemary leaf extract.
*Certified organic ingredient
**Certified organic - RSPO Identity Preserved ingredient
To get the most out of your bar, wet your skin and then work the soap up into a nice lather before gently massaging it into your skin.
For an extra special treat, turn the water off and let the beneficial oils and botanicals soak into your skin for a few moments before rinsing it all off.
When showering, we suggest starting at the top and then working your way down to your feet.

To use as a shampoo bar, first get hair and scalp good and wet. Next, work up a lather in your hands then massage that lather into your scalp. Let the lather soak in to your scalp for a few breaths. Rinse thoroughly with clear, cool water. Condition and style as you normally would.

Keep soap dry between uses for a longer lasting bar. Bar soap will last several years if kept wrapped and in a cool dark dry place.

You can also use these soaps with your skin brush or washcloth for an extra invigorating cleanse.
Best soap for winter! The spicy sweet scent cheers us up and the goat milk and honey formula feels especially soothing on dry or chapped skin.
Tonic's Products are the best!
My husband and I LOVE Tonic so much! The best soaps and lotions!!